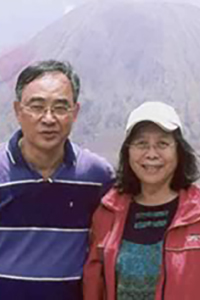 Personal Background
Joseph & Esther Tan came to accept Jesus Christ as Lord and Savior from non-Christian backgrounds more than 45 years ago in their countries of Singapore and Indonesia respectively. They currently serve AFCI based in Singapore. The countries they cover include Bangladesh, India, Myanmar, Vietnam, Laos, Thailand, Malaysia, Indonesia, Philippines, Sri Lanka, Japan, Taiwan, China and most of South East Asia.
Their ministry includes conducting Marriage & Family Life seminars, Pastors Conferences, working as visiting lecturers to theological schools in Myanmar, Vietnam, India, Indonesia & Philippines and bringing medical and dental teams to the remote and tribal areas of Sarawak (East Malaysia) and Irian Jaya (Papua) Indonesia. They have the privilege to serve the Lord in full-time ministry for the last 38 years. They ask for prayers for them to have good health and strength as they take up new challenges in the years ahead of them!
Joseph completed his Doctor of Ministry degree with Luther Rice Seminary (Now Luther University, Atlanta, Georgia), Jacksonville, Florida, USA in 1991 and Esther completed her Bachelor Of Science in Food Technology in Bandung, Indonesia in 1966. They have two adult children, Aquila and Elizabeth and son-in-Iaw, Li Song.
Today, we are celebrating more than 50 Years of God's grace and amazing provisions:
Praise & thank God for the lives of Joseph & Esther Tan who had been with AMBASSADORS FOR CHRIST SINGAPORE LTD for 48 years since January 1973. Since July 2023, they began a new endeavor with AQUILA 2020 GLOBAL Ltd. A company registered with Accounting And Corporate Regulatory Authority (ACRA) to provide consultation, training, conducting seminars on family issues, as well as counseling in Singapore, Vietnam, Indonesia, Philippines, Myanmar, Bangladesh, India, China, and more!
When attending the First Baptist Church of Atlanta, USA with the late Rev Ian North, International Director of AMBASSADORS FOR CHRIST INTERNATIONAL in the year 1980, Joseph asked someone "Where did Dr Charles Stanley get his education & degree?" They said "from Luther Rice Seminary, Jacksonville, Florida". Because Joseph was very inspired & impressed by Dr Charles Stanley's teaching & preaching, he decided to enrolled at Luther Rice Seminary. He graduated with Master of Divinity in 1989 & Doctor of Ministry in 1991.
God has immensely used Joseph & Esther Tan over the years in various countries such as Singapore, Cambodia, Laos, Vietnam, Thailand, Sarawak (East Malaysia), Myanmar, Indonesia (Kalimantan, Bandung, Irian Jaya, Papua), Philippines, China, Bangladesh, Nepal, India, Egypt, USA, Australia, among other places.
Another milestone for celebrating & praising God's goodness & mercy is Joseph and Esther's 50th Golden Wedding Anniversary in June 2023 with their 2 children & spouses – Aquila Tan & Kesia Sim, Elizabeth Tan & Yeoh Li Song and many adopted grand children in various countries of Myanmar, Vietnam, Indonesia.
They would like to take this opportunity to thank their faithful friends, sponsors, churches, and mission agencies for their financial support and unceasing prayers all these years as well as the Bible Schools and Seminaries for their training & equipping us.
Please continue to pray for them as they press on the last lap of their journey for the Gospel Ministry & their walk and relationships with our dear Lord & Savior Jesus Christ!!!